Tracked Down: Carmen Electra, Milan Lucic, Brooke Shields & more...
By Inside Track
Sunday, July 12, 2009

Museum of Fine Arts honcho Malcolm Rogers and Madonna impersonator Timatha Kaste vogue for the cameras at the MFA's karaoke party to celebrate the museum's new Seeing Songs exhibit... "Baywatch" cougar Carmen Electra checking out the boards and surf gear at Corner Five Surf Co. in Oak Bluffs... Boston Bruins biggie Milan Lucic and Celebrity Marketing man Cleon Daskalakis checking out Serena Williams' backhand at the Boston Lobsters tournament at the Sheraton Ferncroft... Fairmont Battery Wharf GM Michael Gackstetter welcoming the captain and crews of the Urania and Tecla to Boston and giving them tips on how to best navigate through the streets of Boston... "Furry Vengeance" leading lady Brooke Shields, topped with a Red Sox cap, sitting outside Flour on Farnsworth Street eating a sandwich and reading a book... Cutie crooner Harry Connick Jr. and wife Jill chatting with another couple on the porch of The White Elephant after the Nantucket AIDS Network benefit bash... "Survivor: Tocantins" winner J.T. Thomas greeting Paul Bremlist-Ellis, 8, of Norfolk at the CBS Scene at Patriot Place during a fund-raiser for the Foxboro Regional Charter Schools athletic program.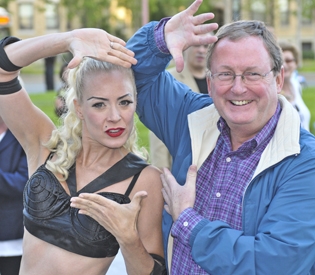 Museum of Fine Arts ace Malcolm Rogers, right, strikes a pose with Madonna doppelganger Timatha Kasten.